" I look for poetic movement; set up for a strike dramatically, deliver it with grace and precision, and finish with a flourish of emotion"
.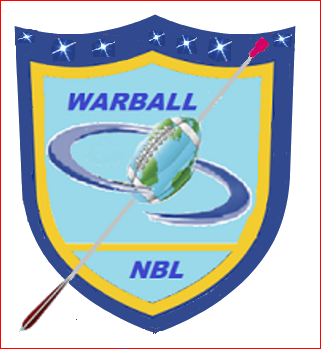 Genesis
Hello, and thank you for visiting our site. The NBL was born in February 2019 when its founder noticed the local high school was disbanding its football team after 80 some years of existence. Alarmed to see this condition is rapidly occurring in other venues, he thought a safer and more edgy version of football may appeal to our youth, and should be one that includes girls.
Since that time we have been in prototype stage, and have morphed the concept into a type of sport not only for youth but one that offers global cultural compatibility. We have left no demographic stone unturned as we have described in our other pages.
We didn't plan for that, but we realized later its global success is vital to achieve the original goal of returning more young people to football. We do so with a football version with safer aspects, a more respectful culture born from martial arts, and gender and body size equity. The 12 and under age group version of WarBall involves no tackling per se, utilizing only impairment devices, martial arts and weaponry.
We have patented our BangBall football, helmet, air bags (and nanotechnology 'sleeves' that harden to impair movement, as the future of WarBall, and possibly football itself). A process patent for the game itself is pending.
.
The word "Bang" is Chinese for stick, so incorporates a dual meaning in the name.
Background
William is a former owner of 3 minor league football teams in the North and East Bay Areas of California. For 10 years he enjoyed playing for the (now defunct) USAFF football league, where he was an All Star in one of those years. The last team he founded is the oldest team still playing (22 years) in California.
.
.In the 1990's he merged his hardware company and then with his partner took it public to $60 million in annual revenues with 120 employees and offices in 4 countries. It exists today as IMSI.
Prior to this, he attended Marin J.C., U.C. Berkeley, U.C. Hastings Law in California and did post graduate engineering studies at the University of Hawaii. He played Running Back, wide receiver, defensive back, or Rugby as a Wing at all of the University venues. He played on numerous local rugby teams after graduating, then later as a minor league football player/owner.
.
Our merchandising company Bushido84.org sells mix of warrior clothing. Revenue from these sales will also provide the non profit League with support, but also return profits to worker organizations and unions who manufacturer its products.
The 84 stands for the 8 virtues of the Samurai (known as Bushido), and the 4 truths of Buddhism. As a a non profit, returning proceeds to worker's unions and organizations who manufacture the items the 84 brand sells.
As one who owned a football team (the Knights) for 10 years that was based in the inner city of Oakland, he knows how sports can instill winning attitudes against adversity that can carry an individual outside of sports for the duration of his or her life. He has seen how his teams literally saved lives as a alternative and refuge from the hard streets.
So the passion for success in sports is deeply embedded, but it is equally important to have decent experience of running a football business. For 10 years, William was recruiting and managing players, coaches, and staff. Coordinating practice and game venues and a thousand details that go with it. Player safety he knows is paramount. Quality control of the product, that is, the game itself. The comfort, security, and entertainment of the fans on game day.
.
Engaging the community, promotion and marketing like any other business is necessary. The list goes on, but suffice to say we know this business, and also know there are things always we can do better and to learn.
The NBL Today
The NBL is emerging from the startup ooze. We need soldiers (we don't use the term "players" in the NBL) to produce much better promotional videos and to build out more pricey uniforms.
Next, our first exhibition game, USA vs. Mexico, will cost around $75,000 to produce, Covid greatly effected our timeline.
More true life action and games are coming with your support, as we raise funds in a very flexible way: with ownership shares of the NBL available or as a tax deductible donation. We suggest you read further, but to make a tax deductible donation please click here .
Please click this ( "https://bangball.org/investors/") to open this page for more info.
.
Our merchandising company Bushido84.org sells a mix of warrior and yoga themed clothing, and eventually WarBall equipment and merhandise.
We hope for extensive cross-marketing between WarBall and the 84 Brand. Revenue from these sales will also provide the non profit League with support. The 84 Brand itself is non profit, supporting Worker organizations.
GROWTH
We seek to license WarBall to sport's companies or secure production deal with a major streaming company to broadcast our games. Green lighting this proposal is pending more real life examples of game and fighter action. We are actively seeking Angel investors or donations to produce these promotional films and test the game and equipment under live conditions.
.
We thank you again for visiting and we hope we can build something special for you and your community. Please contact us if you need any more information.